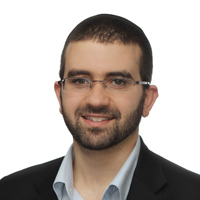 Digital Advocates was founded by Raph Sebbag, with over 10 years' experience in sales, marketing and training, mainly within the digital space. Raph began his foray with Melbourne IT, working as a digital business consultant for the retail and partner channels . He then dived into the deep-end of the online marketing space, specifically into organic world of Search Engine Optimisation (SEO), multiplying traffic and results for some well-known brands including the RACV and Allied Pickford's.
Although seeing SEO strategies as fundamental, Raph grew frustrated, along with many business owners, with the constant Google algorithm updates which continually cause panic among many SEOs. There were also too many myths and cookie cutter approaches being touted by cowboy agencies at the expense of client results. How can any rational business owner or marketer make strategic business decisions when the goal posts are constantly moving in a digital jungle? There had to be a better way.
Raph saw that more and more people and businesses were relying on pay-per-click advertising. This advertising model possessed advantages that virtually no other advertising model possessed – speed, flexibility, transparency & cost-efficiency.
With his broad experience and knowledge, Raph was approached to help growth-oriented businesses with their online marketing, advocating a practical and results-focused approach with digital marketing.
So in early 2014, Raph started Digital Advocates, a certified Google Partner AdWords agency aimed at injecting integrity back to the Digital space providing businesses with transparent, practical and measurable services using a strong data-driven approach. One of his driving philosophies is that advertising, whether online or off-line, should be a profit making (or at least brand enhancing) exercise first and foremost .
Hear from others in their own words:
"Raphael is a true professional. He looks after his clients well and always has their best interests at heart." Matt Antonino, Experienced Marketer, Blogger,  Photographer, Entrepreneur.
"Raphael provides quick and excellent service every time I contact him. If he doesn't have the answer he goes and gets it. He is polite and friendly and very professional. It is always a pleasure dealing with him." Rhona Hammond, Trademark Attorney.
"Raphael is highly knowledgeable in his field of expertise. I would recommend his services to my peers." Raffi Nadjarian, Owner at Raffini Jewellers.