Three BIG AdWords Changes You Should Be Aware Of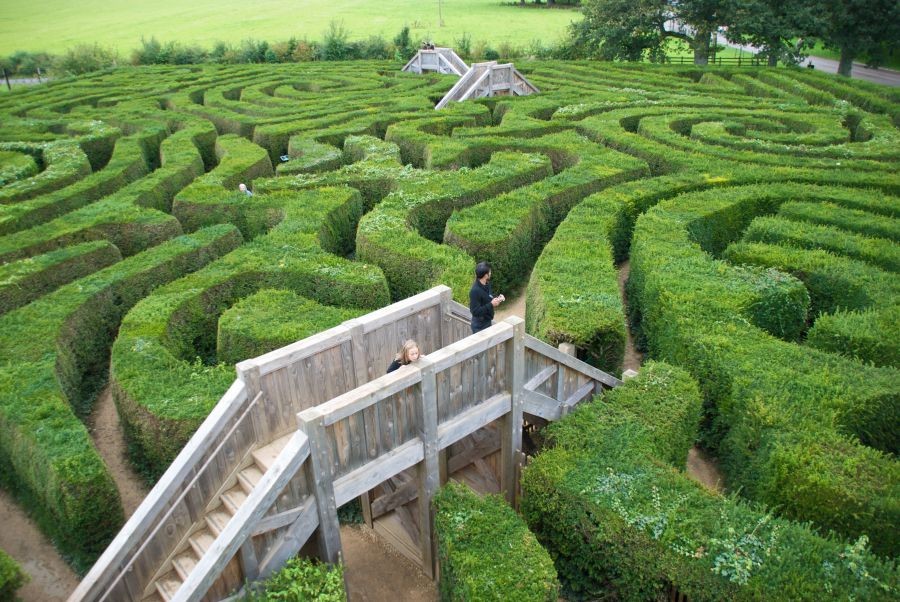 One thing you can expect is CHANGE when it comes to AdWords and everything that sits underneath it's umbrella. Already 2016 has seen some big changes and the coming year is going to see some more both from the advertising front-facing side as well as the data/reporting perspective. In this post, I want to share with you some of the changes that have already taken place and some of the top ones that are imminent so you can already start thinking how your business can prepare and take advantage of them ahead of your competition.
But before I get stuck into it, if you find change to be challenging concept then I highly recommend you first read a short, yet profound book, titled "Who Moved My Cheese", by Spencer Johnson. For those with children, there is a great kid's version too with great pictures. I had to read it 4 times on the first day to the kids when we got it – they love it, and so do I! Anyway…
TWO VERY VISIBLE CHANGES THUS FAR
The BIG one: No ads on the right hand side. I am not going into this in great detail as I have already discussed it more here. But what I will say is that because there are no more ads on the right hand side of the screen, it now opens up a huge amount of ad real-estate to explore with which is what we will get into soon.
The smaller one: Changing the Ad label from yellow to green. This rolled out earlier in June 2016. This is unlikely to dramatically impact on results from an Ads perspective, but may slightly increase the amount of people who click on ads as they blend in more with the natural results.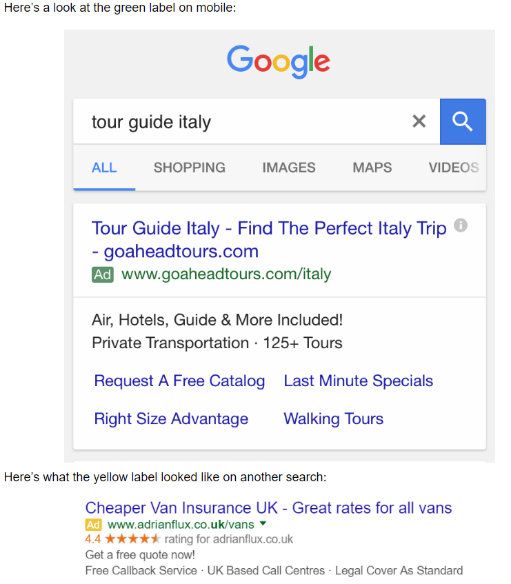 THREE BIG CHANGES COMING OUR WAY, VERY SOON
EXPANDED TEXT ADS (ETA)
Sometime later this year according to Senior Vice President, Ads and Commerce, Sridhar Ramaswamy, ads will have the ability for up to 50% more ad space, no doubt helped with the removal of ads from the right hand side. Longer headlines of up to 30 characters, up from 25 currently and one 80-character long description line instead of 2 lines of 35 characters each.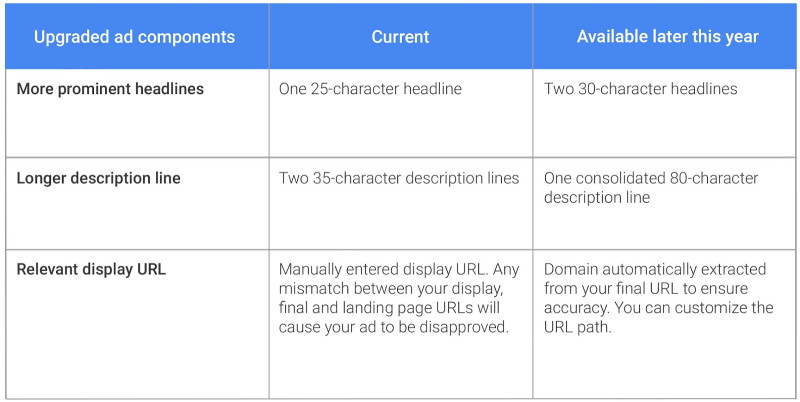 Google is also saying they expect an increase of possibly 20% in click through rates. So obviously more money for them, and possibly more traffic for advertisers too. So assuming solid conversion rates on your website, this should be a boon for growth oriented business'.
We can see a sneak peak by how things look at the moment with some expanded headlines and longer lines within the ad extensions (for those who know how to do it) – check out our blog on this on some of these points.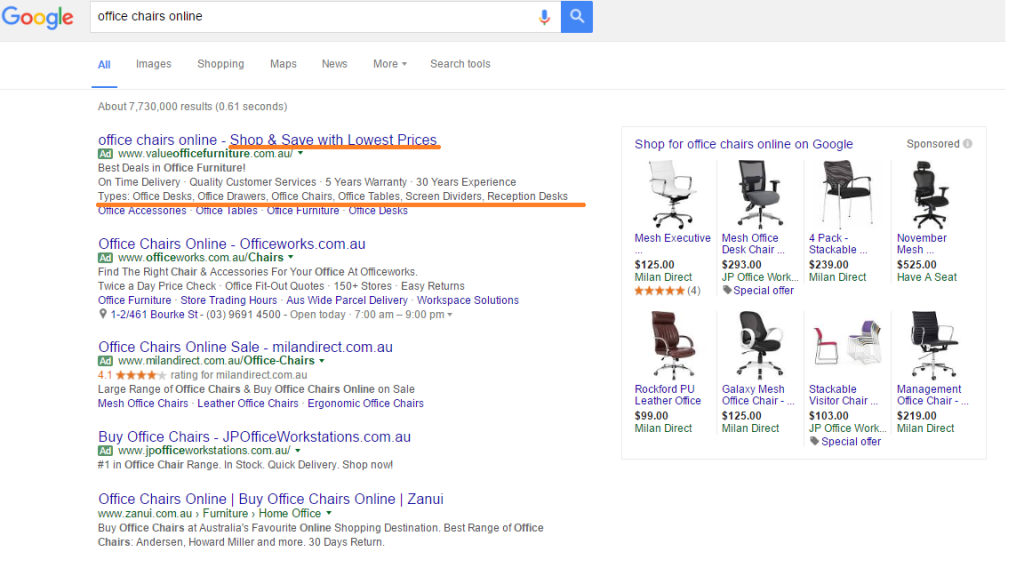 We even came across a search which seems to show a a large advertiser who possibly has access to the ETAs pilot phase. As you can see it defintaely gives the advertiser more room to communicate reasons why to click ontheir ad as opposed to others. I wonder whether the predicted 20% uplift in CTR's is actually on the conservative side?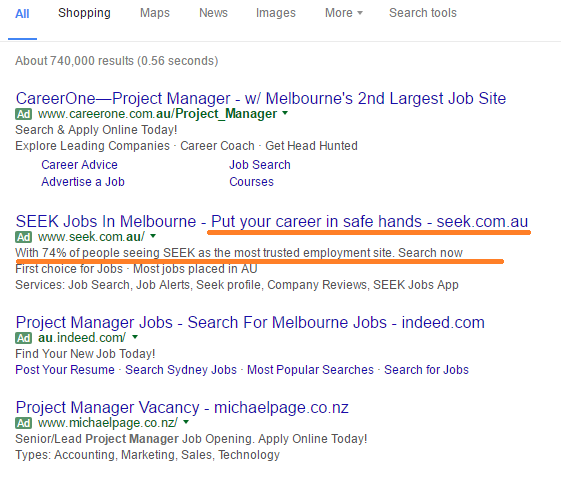 Key takeaway for advertisers and business
Because ads thus far have been written according to the space allowed, it means all ads will have to go back to drawing board to make sure they are taking advantage of the extra space effectively by using more compelling ad copy. Both from the headline as well as description lines.
A better understanding of your business' benefits, features and consumer triggers will help you prepare and adjust for this change.
Fortunately, Google has been giving us the ability to test this out with a punctuation trick on the first description line that can push your first description line up into the headline.
BID ADJUSTMENTS FOR ALL DEVICES
So until now, keyword maximum bids are set for desktop, which can then be adjusted up or down for mobile based searches, but not for tablets. Once this change comes into effect advertisers will be able to modify bids for each device type, desktop, mobile and tablet.
This is a good thing as each business can decide to anchor their bidding depends on works best for their industry or business.
Key takeaway for advertisers and business
The trick is will you know how to gather, interpret and act on the data so you are making meaningful bid adjustments to get you the best possible return on investment from each device. Understanding customer behaviour online and the inherent nuances will help to take advantage of this tactic.
ADS IN GOOGLE MAPS
Another area that has been getting a lot of attention is Google Maps. Firstly not too long ago, people will remember there used to be up to 8 Google map results. Now this has shrunk to 3. What you are probably going to see is one or two more spots in the Google map deck results dedicated to ads.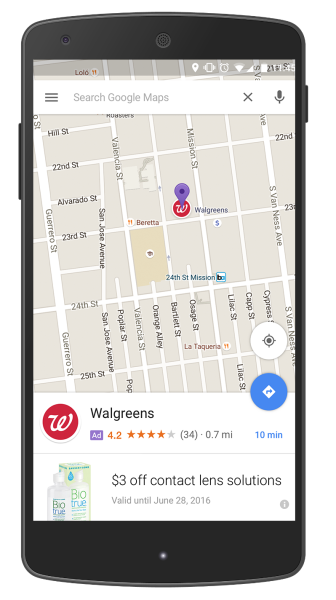 Also whilst searching through Google Maps itself you will start to see Promoted Pins as can be seen from the image to your right.
Key takeaway for advertisers and business
The interesting thing here is that it will not be determined the same way ads text ads but rather based on the knowledge that Google has about your business. So the more information you can pass onto google via their structured, feed-generated services, the more it will give you an advantage.
FINAL THOUGHTS
Going back to the start, change is inevitable, especially when it comes to online marketing. In general, those who are aware of the changes taking place and have the capabilities how to capitalise of those changes should continue to see further improvement and return on their online marketing investments.
AdWords specialists used to be able to get away with understanding the technical and numbers aspect of the game. What will be even more important with these changes is knowing how to market and communicate value to your intended audience and capture their interest and loyalty with smart, strategic advertising and growing from your investment.
How have the changes this year affected your advertising performance? What are your thoughts for the changes about to come?